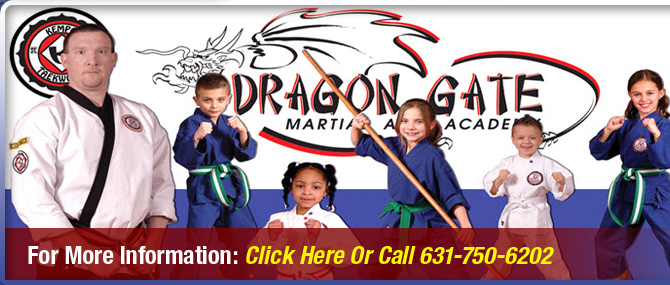 Welcome to the official website of
Dragon Gate Martial Arts Academy
located in Oakdale, Ny.
Dragon Gate is owned and operated by Shihan Mike Iannone and has been providing exceptional Martial Arts instruction to the Oakdale/Bohemia community since 1999. We provide Training in the Styles of Kempo Taekwondo, Kempo Tai-jitsu, Combat Cardio, and Women's Self Defense. We run classes for Children's Martial Arts, Teens, and Adults.
Shihan Mike Iannone's vision is to provide the community with a fun and safe environment. Where anyone can learn to get in shape, learn Self Defense, and learn life skills and character that when taught right martial arts instills. We believe in values like Courtesy, Patience, Respect, Self Control, and integrity.
Shihan Mike Iannone will also help you achieve Self Discipline, High Self esteem and an attitude that refues to give up. The values and life skills that you will learn will lead to incredible improvements in Academics, Careers, and Relationships, literally making our community better one Dragon Gate Black Belt at a time.
We hope you enjoy our website and will stop by and visit us if you are in the area. This site is designed to give you information about our facility. Our styles of Martial arts, our instructors, and also to provide you with the information on how to contact us as well.
Mission Statement
At Dragon Gate Martial Arts Academy, Our goal is to provide the most comprehensive confidence building martial arts training programs available on the market today. The phrase "I Can't" does not exist. We strive to show our students how they can carry over their training into every day life. Dragon Gate Martial arts Academy is a place where martial arts is truly for everyone.
Click Here To Change Your Life






Join before the new year get a free private lesson!
We are currently offering a great special for children ages 3 and up. We offer 3-4 year old classes, 5-6 year old classes, 7-9 year old classes, 10-13 year old classes, and Adults 14 and up. This Special is Join before the new year get a free private lesson!
Click Here To Buy Now
To reserve your spot in one of our programs please CLICK HERE.
Dragon Gate Birthday Parties are the best in town. Please click here for more information on our Birthday Parties

Party packages start at 279.99 for 2 hours of fun. Icludes 1 hour of instruction, Pizza and juice boxes for up to 20 children, and games
CLICK HERE to book your child's party.